Hello all! School's started for me, so naturally my graphics-making time is going straight down, but I'd like to share this with you guys. <3 I originally created this for the
hogwartsishome House Unity Mixtape Competition. (and tied for Best Cover Art, yay!)

Each song corresponds to a certain viewpoint - a canon house, a HiH house, and my personal opinion of those houses in general. At the end, there's a song just to wrap everything up for House Unity. Enjoy!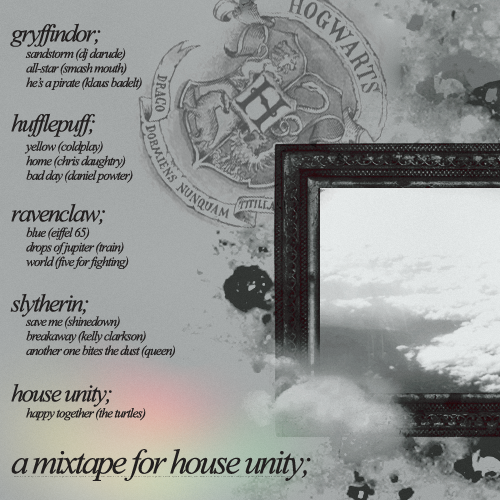 #1
Lyric: "Tell me, did the wind sweep you off your feet - did you finally get the chance to dance along the light of day and head back to the Milky Way.."
Link to Youtube or last.fm: LINK
Artist/Song: Drops of Jupiter by Train
Mix Requirement: Ravenclaw Canon

#2
Link to Youtube or last.fm: LINK
Lyric: "You'll never know if you don't go, you'll never shine if you don't glow.."
Artist/Song: All Star by Smash Mouth
Mix Requirement: Gryffindor Canon

#3
Link to Youtube or last.fm: LINK
Lyric: "Look at the stars, look how they shine for you and everything you do.."
Artist/Song: Yellow by Coldplay
Mix Requirement: Hufflepuff Canon

#4
Link to Youtube or last.fm: LINK
Lyric: "How did I get here and what went wrong, couldn't handle forgiveness. Now I'm far beyond gone.."
Artist/Song: Save Me by Shinedown
Mix Requirement: Slytherin Canon

#5
Link to Youtube or last.fm: LINK
Lyric: "Well, you need a blue sky holiday, the point is they laugh at what you say.."
Artist/Song: Bad Day by Daniel Powter
Mix Requirement: Hufflepuff HiH

#6
Link to Youtube or last.fm: LINK
Lyric: "I have a blue house with a blue window. Blue is the colour of all that I wear.."
Artist/Song: Blue by Eiffel 65
Mix Requirement: Ravenclaw HiH

#7
Link to Youtube or last.fm: LINK
Lyric: "Instrumental~"
Artist/Song: He's A Pirate by Klaus Badelt
Mix Requirement: Gryffindor HiH

#8
Link to Youtube or last.fm: LINK
Lyric: "Are you ready hey, are you ready for this? Are you hanging on the edge of your seat?"
Artist/Song: Another One Bites the Dust by Queen
Mix Requirement: Slytherin HiH

#9
Link to Youtube or last.fm: LINK
Lyric: "Instrumental~"
Artist/Song: Sandstorm by DJ Darude
Mix Requirement: Gryffindor Personal

#10
Link to Youtube or last.fm: LINK
Lyric: "I'll take a risk, take a chance, make a change.."
Artist/Song: Breakaway by Kelly Clarkson
Mix Requirement: Slytherin Personal

#11
Link to Youtube or last.fm: LINK
Lyric: "What kind of world do you want? Think anything.."
Artist/Song: World by Five for Fighting
Mix Requirement: Ravenclaw Personal

#12
Link to Youtube or last.fm: LINK
Lyric: "Well I'm going home, back to the place where I belong.."
Artist/Song: Home by Chris Daughtry
Mix Requirement: Hufflepuff Personal

#13
Link to Youtube or last.fm: LINK
Lyric: "Imagine how the world could be, so very fine, so happy together.."
Artist/Song: Happy Together by the Turtles
Mix Requirement: House Unity